This post may contain affiliate links, which means I'll receive a commission if you purchase through my link, at no extra cost to you.
Don't feel guilty for doing what's best for you.
Last year I moved into my condo, for the first time, on my own, and the overwhelming feeling I had at the time was insane. You have so much to think about and so many things to take care of, you really don't know what to prioritize. To help you out a bit, here are a few apartment must-haves that I compiled now that I have everything.
Looking back I realize how much I spend the first few weeks on items I thought I needed but really didn't. Moving out can be extremely expensive and you do not need to have every little gadget and every trendy decorative piece right away.
One thing I would suggest is to start your purchases as soon as possible and to keep an eye on the prices fluctuation. Getting your essentials at discount will be a wallet saver for you.
Your livingroom must-haves
Couch
One of the hardest things I had to purchase. I'm not even joking when I tell you that I purchase 4 different couches before getting the one I have now. It's expensive and you have so many options. Also, the couch is the centerpiece of your living room so it has to be a perfect size, the perfect color, and the perfect vibe. And did I say it's expensive? This is definitely a purchase you want to make at discount!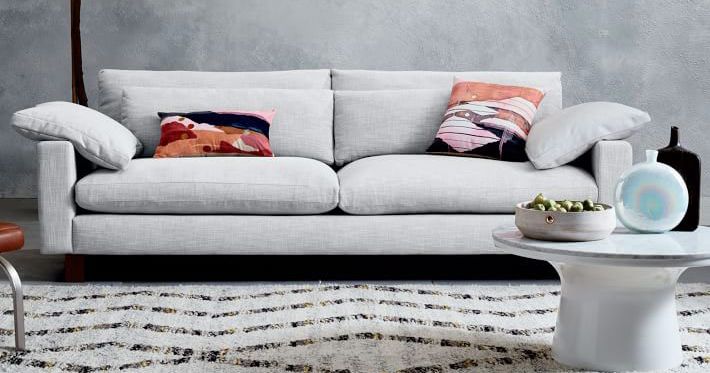 Coffee table
A great way to give life to your living room and it doubles well as a decorative piece. This one comes from Amazon but I saw so many cute options at Wayfair for great prices.
TV
You can get different sizes for different prices. I got mine from Costco but you can get a tv from Amazon, Bestbuy, Walmart, and so many other places.
TV stand
You will need one to put your tv on. The old owners left me there so I didn't have to purchase a new one but I find that Ikea has the best tv stands and offers really nice organizational space as well.
Living room decorations
Once you have all the big pieces, it's time to decorate. You don't need much to make your space feel homey but these are the little things I would add…
Curtains
Throw pillows
Rug
Picture frames
Shelves
Your bedroom must-haves
Bed and Mattress
Bedding essentials
For 75$ you get a pillow sham, a coverlet, a pillow cover, a comforter, a fitted sheet, a bed skirt, and a flat sheet. If you don't need this many pieces you can find some less expensive ones at target.
Bedroom furniture
A few little things that would be nice to have and aren't not too expensive. I got most of mine at ikea which I found very pretty with an acceptable price!
Curtains
Nightstands
Lamps
Vanity table and a chair
Your bathroom must-haves
Bathroom essentials
I put a few essential that you can get at amazon for quick delivery but you can also get some pretty items at Costco, target and walmart for a similar price.
Bathroom cleaning supplies
To keep your bathroom clean at all times, this is what I would recommend yo start with! Obviously with time you can get a lot more stuff…
Toilet bowl cleaner
Plunger
Trash can
Your kitchen must-haves
Pots and pans
For 68$ you get a set of 15 pieces that covers all your essentials such as fry pans, saucepans, casseroles, and utensils. There are enough pieces to allow you to make different meals and get you covered for a few years. The quality is not the absolute best on the market but they will be a loyal kitchen item for a few years minimum.
Dishes
52$ for a serving of 6 and 45$ for a serving of 4. I love these because they will never go out of style. The classic white design will make your table picture-perfect for whatever event you will be hosting!
Utensils
25$ for a set of 4 (24 pieces in total) and 49$ for a set of 8 (48 pieces in total). You will obviously need those to eat! And this set is so visually pleasing. I didn't realize how much utensils can be expensive and you don't have a lot of options. Amazon has a lot of less expensive options that are worth the stop.
Kitchen small appliances you might want
This is a list of a few gadgets I feel that are essential to living on your own but you obviously don't need to get everything.
Kitchen cleaning supplies
If there is one room that has to be clean at all times it's the kitchen. So here are a few things I got before even having the keys to my place.
White vinegar and baking soda
Another post will be coming over soon with some random things every apartment should have,
Until next time,
Sofyah,